This post may contain affiliate links so I earn a commission. Prices are exactly the same for you if your purchase is through an affiliate link or a non-affiliate link. You will not pay more by clicking through to the link.
In-depth review and opinion of the Sony Walkman NW-WS413 and NW-WS414. The sports MP3 player in the design of a wireless headphone. They are also completely resistant to water, so we are dealing with headphones for swimming both in the pool and in the sea.
We analyze the Sony Walkman NW-WS413, an accessory that at first glance looks like wireless headphones, but is actually a totally independent product, since it is a complete MP3 player, with internal memory, and complete resistance to water (yes, can be used for swimming) and long battery life.
If you read this it is because you like music, you like to listen to it while you train, because it motivates and because it makes any training more enjoyable. Nowadays almost all of us go out with some piece of technology on top when we go to train and headphones are usually one of them. Are you looking for an MP3 player to run, swim or for any activity without having to rely on mobile music? Sony's legendary Walkman family continues and these headphones are all-in-one.
This model is available with 4GB of internal storage (named NW-WS413) and with 8GB (NW-WS414). Both the design and the rest of the features are exactly the same, so let's go with the analysis of these Sony sports headphones/MP3.
Sports MP3 all in one: Sony Walkman NW-WS413
Here we have talked many times about Bluetooth running headphones, but this is not the case since, as was the case since the first Walkman, these Sony headphones are, in themselves, an MP3 player in which you can store music and listen to it directly, an all in one.
Comfort and design of the Sony Walkman sports player
As you can see in the photos, the Sony Walkman NW-WS413 do not differ at a glance from other typical headphones with a fastening behind the neck. They may seem a bit bulky and large, but once put on they are comfortable and light, weighing only 32 grams .
The cable that connects both parts is not completely rigid, but it is not 100% flexible either, however, it maintains its shape and above all I was surprised that it fits very well to the neck, it never bounces and it is completely stabilized. This is in my head, of course, each one is a world, but in case this part is left in the air or you want to adjust them even more, a piece is included in the box to tighten them so that they are completely glued. Very good in this section.
Both on the right and left earphones of these NW-WS413 / NW-WS414 we have the playback control buttons. On the right, there is a dedicated button to turn on/off, play/pause, and skip songs. For its part, on the left are the volume control buttons, the 'mode' button (which allows you to activate the random, repeat song or normal mode), and finally, a third button that controls the ambient sound mode, which allows passing the outside noise and then I will detail.
Swimming headphones with total resistance to fresh and saltwater
As I mentioned at the beginning, these Sony Walkman NW-WS413 / NW-WS414 are especially interesting for those sportswomen who are also looking for headphones for swimming.
They are completely resistant to water , we are not talking about simple splashes, but they can be submerged without risk of being damaged. In addition, since the music is stored in its internal memory, there is no loss of connection or unpairing, as is the case with Bluetooth headphones (since data is not transmitted through water beyond a few centimeters).
With these Sony Walkman, you can swim both in the pool and in the sea, there is no problem using them in saltwater . Of course, once we have finished these sessions, we must put them under the tap and clean any remaining salt or chlorine well. This is important so that they last as long as possible.
As you have already seen, they are in-ear type headphones and in the box we get pads of different sizes, but also an extra set of specific pads for swimming.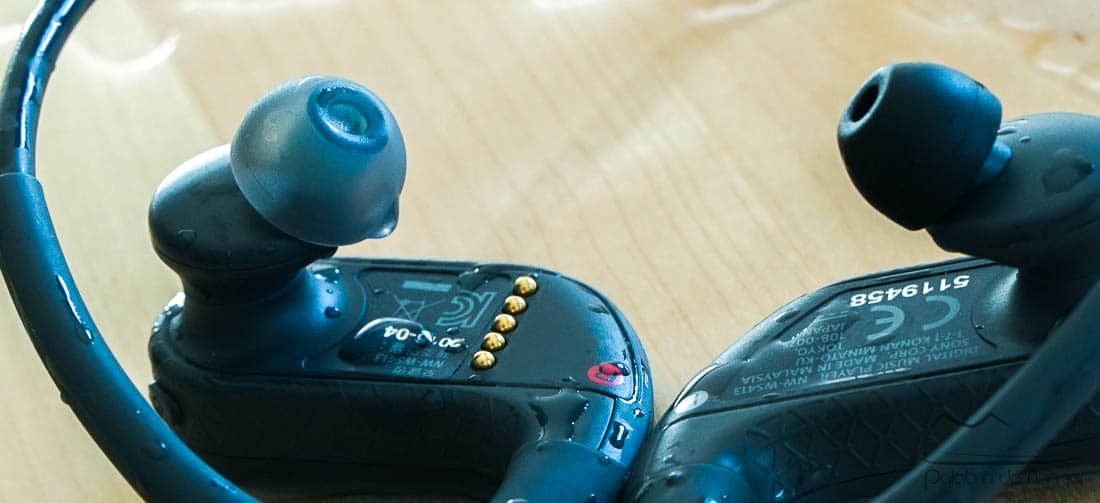 What is the difference between them? Basically the swim pads (the ones on the left in the photo above) have a membrane in the middle hole, so water can't get through to the ear piece and resistance is preserved. The drawback is that we have to be changing them if we use the MP3 player to swim, run, gym…
Sound quality
As a general rule, sports headphones are not aimed at sound lovers and audiophiles, but we can differentiate those that sound like a can and the manufacturers that take more care of this section. In this sense, Sony is committed to a balanced sound and, yes, with a very high volume (the sensation is greater due to the in-ear pads)
With the water pads you lose a bit of sound quality and bass, something normal as they are covered in the central part to prevent water from entering. In addition, in the water you have to make sure you wear the correct size and fit the headset well (a good trick is to 'catch' them with the rubber of the glasses so that they do not move more than necessary), because with the current and the water they may become loose or fluid may enter the duct.
Ambient sound mode to hear outside
One of the drawbacks that I always see in-ear headphones is that they isolate us almost completely from the sounds of the environment, something that I personally do not like when I practice any sport.
Sony has chosen in this case to insert a quite interesting ambient sound mode. What this mode does is activate a microphone in the MP3 player that 'listens' to the environment and 'puts' these sounds into us through the headset itself. This mode has two intensities (which allow more or less external sound to pass through). Obviously, if we take the volume to full milk, the ambient mode is of little use.
Battery up to 12 hours
The battery section of the Sony Walkman NW-WS413 (and the NW-WS414, which is the same) gets outstanding for several reasons.
First, it can last up to 12 hours with each charge. Obviously, I have not taken them 12 hours to check it and surely in normal conditions they are around ten, but it is still fantastic to forget about it for several days.
Those 12 hours can be drastically reduced if we abuse the ambient sound mode that I mentioned before, going down to 7 hours per charge if we always have it activated.
The way to charge them is through a small piece that is included and in which we have to put one of the headphones (the one with the contact pins). This piece is where the cable connects. It is a micro USB, so any of the mobile chargers you have at home will work for you.
Fast charging included
The other point where the battery is a standout is that this Sony sports MP3 player has fast-charging technology, and it really is very fast.
If for whatever reason one day it catches us off guard, our battery has run out and you realized when you were going to walk out the door, no problem. 3 minutes of charging are enough to have a range of 60 minutes of music playback. While you take a drink of water or look for the keys, they are more than ready for training.